Wolseley Brands
Wolseley Canada offers its own line of exclusive products. These products are available only through Wolseley Canada and its subsidiary locations, and offer superior quality and value. Please see below to learn more about Wolseley-brand products.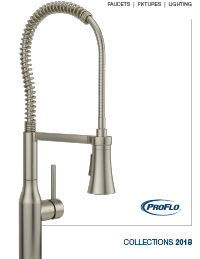 PROFLO® – Our line of PROFLO® rough and finished plumbing products provide our plumbing customers with a full range of products to help them with any job.
RAPTOR® – RAPTOR® products are rugged, durable, and can be used on nearly any construction site. Visit your nearest Wolseley location to shop for RAPTOR® power tools, extension cords, waterworks equipment and more.
Mirabelle® – Check out our Mirabelle® line for the latest in stylish design trends that can add elegance to any kitchen or bath.
FNW® – Our FNW® brand features a wide range of valves, pneumatic actuators and more, and is a popular piping choice among our commercial and industrial customers.
PROSELECT® – Wolseley's PROSELECT® brand provides HVAC/R companies with high-quality brushes, hangers, struts, fasteners, work gloves, and more.